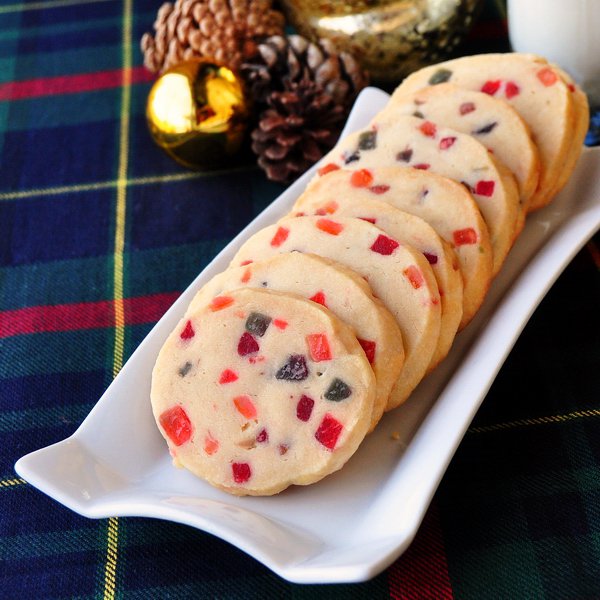 Sweet glace fruit adds festive, colourful flair to buttery shortbread cookies.
Ingredients
2 cups unsalted butter
¾ cup sugar
2 tsp pure vanilla extract
4 cups flour
½ tsp salt
1½ cups mixed glace fruit
Instructions
Cream together the butter sugar and vanilla until very light and fluffy.
Gently fold in the flour and salt until the dry ingredients are almost completely incorporated.
Add the glace fruit and work into a soft dough.
Form the dough into two 1½ inch wide logs.
Wrap the dough logs in plastic wrap and chill for a couple of hours. (Note: This dough will be fine in the fridge for several days if you want to bake off the cookies a few at a time as needed.)
Preheat oven to 350 degrees when ready to bake the cookies.
Using a very sharp knife, cut ¼ inch slices of dough from the log and place 2 inches apart on a parchment lined baking sheet.
Bake for about 15-18 minutes until the bottom edges are noticeably golden brown.
Transfer to a wire rack to cool completely.
Store in an airtight container. These cookies also freeze very well.
You can also drizzle these with melted white chocolate if you like.
Notes
Total time does not reflect chilling time for the dough. Add a couple of extra hours or make the dough a day ahead of baking them.